WELCOME TO OUR LADY QUEEN OF PEACE
A Roman Catholic Parish of the Diocese of Palm Beach
  9600 W Atlantic Ave, Delray Beach, FL 33446 - Tel: 561.499.6234 ext. 100 / Fax: 561.499.5513 / E-mail: queenofpeacedelray@gmail.com
PARISH CLERGY: Rev. Moacir Balen
Vicar: Rev. Heribertus Afandi,
Office Hours: 9 a.m. to 5 p.m. - Monday & Friday
Saturday: 9 a.m. to 1 p.m.
Lunch: 12:30 p.m. to 1 p.m.
Join our Parish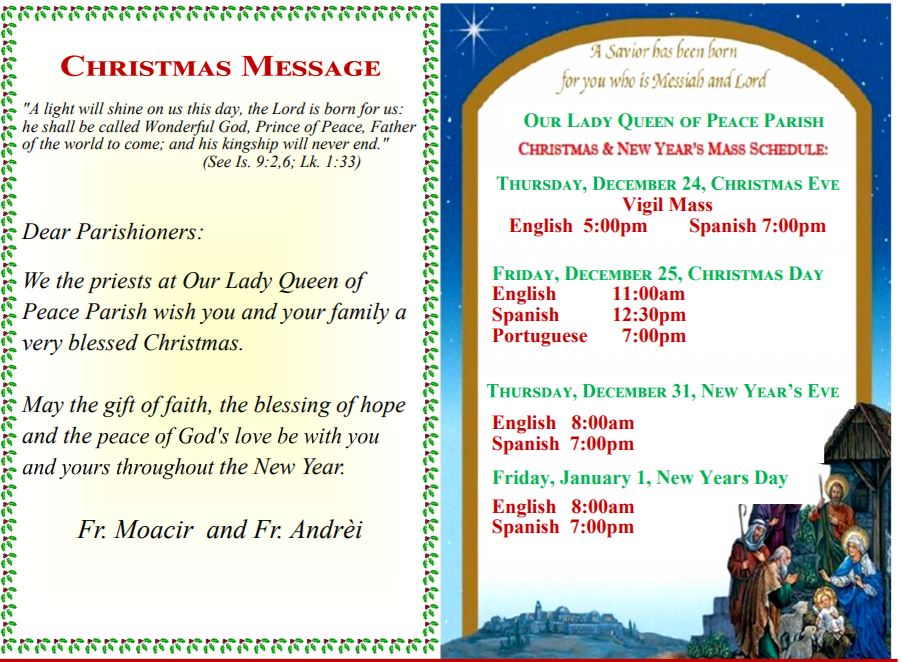 ** INFORMATION **
Dear Parishioners,
Masses will be back to regular schedule with special precautions. The Masses will be first come first serve with limited capacity only 25% capacity

Blessings, Fr. Moacir

ENGLISH MASS
Monday to Friday: 8:00 a.m.
Sunday: 8:00 am and 11:00 a.m.

CONFESSIONS
Only by appointment
MISAS EN ESPAÑOL
Martes, Jueves: 7:00p.m.
Sábado 6:00pm
Domingo: 9:30a.m. y 12:30 p.m.

CONFESIONES
Solo con cita.
MISSAS EM PORTUGUÊS
Horário das missas:
Quarta-Feira: 7:00p.m.
Domingo: 7:00p.m.
Sacramento Da Reconciliacao:
Apenas con horario marcado.